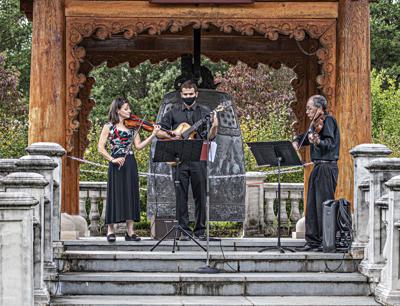 By Manuela Quintero Fehr / Special to the Fairfax County Times
June is here, and it is officially time to kick off the summer! The arts are everywhere in Fairfax.  You can take an art class on the lawn, attend summer camps, and don't forget to check your local theatre listings for upcoming shows.
However you chose to live, work and play in Fairfax, take time to visit artsfairfax.org and immerse yourself in the arts this summer.
Reston Pride: June marks the 51st celebration of Pride Month. Reston invites the community to the Reston Pride festival featuring D.C. band Wicked Jezabel June 19. The festival will also commemorate Juneteenth, with a dance performance by Yauri Dalencour and opening remarks from Washington Plaza Baptist Church Rev. Michelle Nickens. Proceeds from this year's festival will go to future Reston Pride events and programs along with the nonprofit Rainbow Families, which provides education and support to LGBTQ families and prospective parents.  Visit restonpride.org to learn more. The festival takes place in person from 10 a.m. to 2 p.m. at Lake Anne Plaza.
New ArtsFairfax grant opportunity: ArtsFairfax invites the community to apply for the Arts Ignite Recovery Grants (AIR). The grant supports eligible nonprofit arts organizations in providing activities that engage diverse audiences and create arts opportunities in underserved areas of the county. Visit ArtsFairfax.org to learn more or apply.  Grant application closes on July 21.
Cicada-Themed Activities: Love is in the air! After 17 years, the Brood X Cicadas have arrived in Fairfax County and they're here to stay – at least until the beginning of July. Fairfax County is hosting several activities to learn more about these interesting creatures and document this natural wonder in some of our county's most iconic settings. Visit https://bit.ly/3uYzp96 for more information.
Enjoy Gardens and Music: The Virginia Chamber Orchestra will be returning to the Meadowlark Botanical Gardens in Vienna for ensemble concerts on selected Sunday afternoons. Concerts are free with admission to the Gardens ($3 to $6). Visit https://www.vco.events/  for more information.
2021 Arts For Life Artist Residences: The Virtual Center for Active Adults and ArtsFairfax have partnered to offer virtual Artist Residencies on the VCAA. Four teaching artists representing a range of disciplines will lead weekly interactive sessions and programs on the VCAA. Visit https://bit.ly/3v2vjNi for more information.